Best New Tracks: The Game, Megan Thee Stallion, M.I.A. and More
Published: August 14, 2022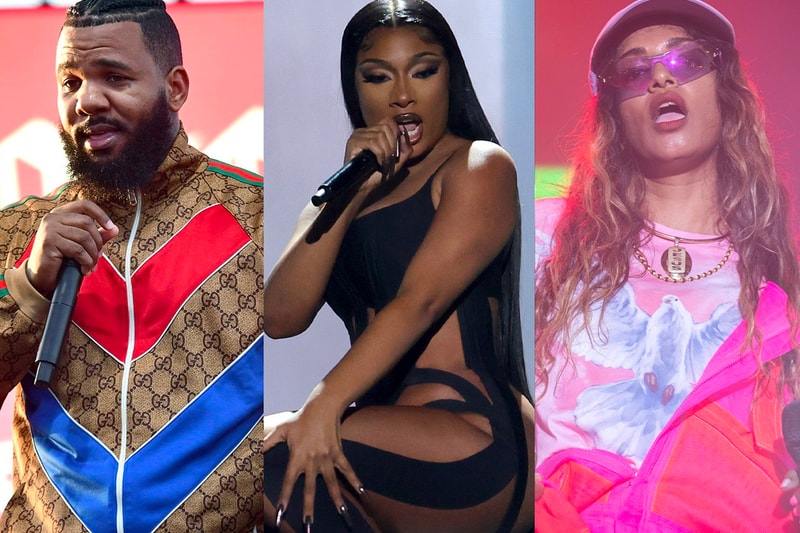 As the week in music comes to a close, HYPEBEAST has rounded up the best projects for the latest installment of Best New Tracks.
This week's list is led by Megan Thee Stallion, The Game and M.I.A., who each released the albums Traumazine and DRILLMATIC - Heart vs. Mind and the single "Popular," respectively. Also joining this week's selection are J.I.D., Ari Lennox, Rod Wave, Piers James and Rex Orange County, alongside collaborative efforts from Danger Mouse with Black Thought and Tyga with Jhené Aiko and Pop Smoke.
Megan Thee Stallion - Traumazine
Megan Thee Stallion surprises her fans with the sudden release of her latest studio album, Traumazine. The 18-track album features guest appearances from the likes of Key Glock on "Ungrateful," Latto on "Budget," Pooh Shiesty on "Who Me," Rico Nasty on "Scary," Jhené Aiko on "Consistency," Lucky Daye on "Star" and Sauce Walka, Big Pokey and Lil Keke on "Southside Royalty Freestyle," and includes the previously-released singles "Pressurelicious" with Future, "Plan B" and "Sweetest Pie" with Dua Lipa.
Listen: Spotify | Apple Music
The Game - DRILLMATIC Heart vs. Mind
The Game's briefly-delayed album DRILLMATIC Heart vs. Mind is here, with the album clocking in at almost two hours across 31 tracks. The extensive record features several high profile guest appearances from the likes of Kanye West on the previously-released single "Eazy" and "Fortunate" with Dreezy and CHILLER, YoungBoy Never Broke Again on "O.P.P.," Pusha T and 2 Chainz on "No Man Falls," Lil Wayne and G Herbo on "Chrome Slugs & Harmony," A$AP Rocky on "Money Cash Clothes," Big Sean on "Stupid," Nipsey Hussle on "World Tours," Rick Ross on "Save The Best for Last" and more.
Listen: Spotify | Apple Music
M.I.A. - "Popular"
M.I.A. shares "Popular," the brand new single off her upcoming album MATA. Te cut features production from Diplo and Boaz van de Beats and arrives a few months after the album's lead single "The One," which the artist said she created when she "was in a really happy place."
Listen: Spotify | Apple Music
Rod Wave - Beautiful Mind
Rod Wave delivers his long-awaited third studio album Beautiful Mind, which he worked on during the first half of 2022. The 24-track record features Jack Harlow on "Yungen" and December Joy on "Quiet Storm" and arrives a year after SoulFly, which debuted at No. 1.
Listen: Spotify | Apple Music
Tyga x Jhené Aiko x Pop Smoke - "Sunshine"
Tyga enlists Jhené Aiko and the late Pop Smoke for his newest single "Sunshine," a nostalgic cut that sounds like it came straight out of the 2000s. "Pop Smoke was a legend in the making and I wish we could've collaborated together more. It's been a great experience working with his mother and brother to pay homage with this song and contributing to keeping his legacy alive—the smoke will never clear," Tyga said. Pop Smoke's mother Audrey Jackson added, "Since I will not get to see him mature into the artist he was on his way to becoming. I appreciate the opportunity to hear a sound that I glimpsed on the Faith album. The magnitude of this moment is not lost on me. Thank you," while his brother Obasi shared, "The video and song solidifies that Pop wasn't all about drill and I appreciate hearing his voice on a song like this. It shows there was love in his heart with a story to tell and his legacy was more than drill music. I'm glad that he gets to be seen in a different light."
Listen: Spotify | Apple Music
Piers James - "CHA CHING"
Piers James is ready for a new chapter with his latest single "CHA CHING," a ZDot-produced cut that borrows elements of pop, old school and even drill. "If you focus on the money you'll never be satisfied because there's always more to chase. I learnt you have to enjoy the journey and have fun, because when you do what you love with a passion the money will always follow," the artist shared. "I want to leave an imprint that inspires people to build a legacy, bringing back that feeling of when you used to watch MTV Base and heard a new artist for the first time and you couldn't help but want to repeat the track, learn the lyrics. I want to inspire people to chase their own ambitions with songs and music video that made you feel something."
Listen: Spotify | Apple Music
Ari Lennox - "Hoodie"
Ari Lennox is back with the announcement of her sophomore album age/sex/location, and the release of her new single "Hoodie." The cut hears the artist reunite with her longtime Dreamville collaborator Elite, who was responsible for eight tracks on 2019's Shea Butter Baby. age/sex/location drops September 9.
Listen: Spotify | Apple Music
Danger Mouse x Black Thought - Cheat Codes
Danger Mouse and Black Thought finally share their collaborative effort, Cheat Codes. Featuring verses from A$AP Rocky, Run The Jewels, Michael Kiwanuka, Joey Bada$$, Russ, Dylan Cartlidge, the late MF DOOM, Raekwon and Conway the Machine, the 12-track record is billed as "an album untethered to any genre, era or trend — uncategorizeable and timeless. It is the sound of the pair observing their own culture and asking questions they still may not have the answers to."
Listen: Spotify | Apple Music
JID - "Dance Now"
JID announces the release date of his highly-anticipated album The Forever Story with the drop of "Dance Now," his latest single that's produced by long-time collaborator Christo. Kenny Mason and Foushee join the Dreamville star in the chorus, while the accompanying music video portrays the themes that can be found amongst the characters and scenes in Atlanta, Georgia. The Forever Story, which marks his first full-length effort since 2018's DiCaprio 2, drops August 26.
Listen: Spotify | Apple Music
Rex Orange County - "THREAT"
Rex Orange County debuts his newest cut "THREAT" just in time for the summer. The track arrives after his critically acclaimed album WHO CARES?, which debuted at No. 5, and is produced alongside his close friends Teo Halm and Jim Reed.
Listen: Spotify | Apple Music
Click here to view full gallery at HYPEBEAST