Klassikkoarvostelu: Symphony X – The Divine Wings of Tragedy
Published: March 24, 2017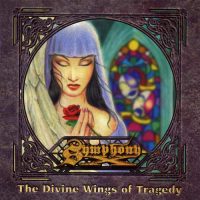 Yhdysvalloista kotoisin tuleva Symphony X kuuluu ehdottomasti niihin progressiivista metallia soittaviin yhtyeisiin, joilla on koko uransa aikana ollut omaperäinen ja ainutlaatuinen tapa demonstroida omaa tyyliänsä. Bändin synnystä voidaan syyttää kitaristitaituri Michael Romeon äänittämää "Dark Chapter"-demoa (1994), jonka tyyli on ottanut vahvasti vaikutteita klassisesta musiikista. Klassisen ja progressiivisen musiikin ystävänä herra Romeo perusti kokonaisen bändin, jonka tarkoituksena olisi jatkaa "Dark Chapter"-demon musiikillista perintöä. Täten samana vuonna, jolloin "Dark Chapter" ilmestyi, syntyi yhtye Symphony X.
Kun keskustellaan yhtyeestä Symphony X, tulee todennäköisesti mieleen kaksi henkilöä: kitaristi-säveltäjä-maestro Michael Romeo ja bändin ääni ja kultakurkku Russell Allen. Bändin alkuaikoina, ennen Russell Allenin ajanjaksoa, mikrofoniin tarttui herra nimeltään Rod Tyler, joka kerkesi tekemään Symphony X:n kanssa bändin ensimmäisen kokopitkän "Symphony X" (1994). Kaikki, jotka ovat kuunnelleet yhtyeen ensimmäisen kokopitkän läpi, tuskin uskaltavat väittää, etteikö herra Tyler olisi suorittanut omaa työtään kunniakkaasti. Periaatteessa Rod Tyler voisi olla tänäkin päivänä Symphony X:n riveissä, mutta mies oli yhtyeen alkutaipaleilla itselleen hieman kriittinen. Rod Tyler ehdotti, että hänen saappaisiinsa astuisi henkilö nimeltään Russell Allen, jonka Tyler tunsi ennestään ja jota hän piti itseään parempana laulajana. Rod Tyler oli myös sitä mieltä, että Allenin laulutyyli sopisi paremmin bändin imagoon kuin hänen omansa. Näin ollen Tyler siirtyi sivuun ja Allen otti kunnian vastaan – ja pitää samaa kunniaa yllä vielä tänäkin päivänä.
Päivitetyn miehistön koostumuksen jälkeen Symphony X purkitti ja julkaisi toisen kokopitkänsä "Damnation Game" (1995), joka on useiden kriitikoiden mielestä parempi tuotos kuin debyytti. "Damnation Game" ei kuitenkaan vielä yltänyt sille tasolle, millä yhtyeen kolmas kokopitkä on.
"Damnation Game" -julkaisun jälkeen vierähti pari vuotta "The Divine Wings of Tragedyn" työstämiseen, mutta julkaisun jälkeen tämä levy ylsi bändin parhaimmistoon, ja samaa titteliä albumi kantaa vielä tänäkin päivänä. Vaikka Symphony X on viimeisen kymmenen vuoden aikana puskenut ulos mainioita julkaisuja, joista yksi mainitsemisen arvoinen on väkevä, sen ajan yhtyeen raskain tuotos "Paradise Lost" (2007) (jumaleissön, tälläkin albumilla on ikää kymmenen vuotta!), niin "The Divine Wings of Tragedy" -julkaisussa on sitä jotakin, mitä muissa ei ole.
"The Divine Wings of Tragedy" sisältää tunnettuja klassikkohelmiä, joista osa kuuluu vielä tänäkin päivänä bändin keikkojen soittolistan pakollisiin osiin. Olisihan suoraan sanottuna hirveä pyhäinhäväistys, jos keikalla ei kuultaisi hiomattomia timantteja, kuten "Of Sins and Shadows" ja "Sea of Lies", joista jälkimmäisessä on kitaravirtuoosi Romeon tunnistettavia sweep tapping -kitarasoolo-osuuksia. Ensimmäisellä kuuntelukerralla hämmennyin täysin ja ihmettelin, onko tuollainen soitto edes mahdollista. Kaiken kukkuraksi YouTubesta löytyy kyseisestä soolosta Romeon videopätkä, joka piti välittömästi katsoa ja tarkastaa, miten tuollainen suoritus oikein tehdään. Katsomisen jälkeen hämmennys oli yhtä mystinen, ehkä jopa mystisempi; miten tuollaisilla nakkisormilla saa tuollaisia sooloja aikaan?
No, ei albumi ansaitse arvoansa pelkästään näiden kahden mainitsemani kappaleen ansiosta. Lukuisia, vaihtelevuudeltaan rikkaita helmiä löytyy, kuten "The Accolade", joka on kuin suuri fantastinen seikkailu progressiivisen metallimusiikin maailmaan. Ja suuren suureksi matka tulee vasta kasvamaan, kun levy pääsee loppua kohti kolossaalisen "The Divine Wings of Tragedy" voimin ja kirsikkana kakun päälle kuullaan huikean kaunis "Candlelight Fantasia". Yli tunnin mittainen kuuntelutuokio tämän albumin parissa on suorastaan lumoavan ainutlaatuinen kokemus.
Teokset, tuotanto, tunnelma ja upeat melodiat ovat täydellisiä! On suoraan sanottuna suuri häpeä, jos joku ei myönnä tai tunnusta "The Divine Wings of Tragedy" -albumin olevan Symphony X:n vahva ja uljas pylväs, joka nosti bändin täysin uudelle tasolle. Kahdenkymmenen vuoden jälkeen "The Divine Wings of Tragedy" on yhä fantastinen ja upea teos! Tämä albumi ansaitsee ehdottomasti leiman klassikkolevyjen arkistoon.
Kappalelista: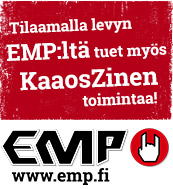 01. Of Sins and Shadows
02. Sea of Lies
03. Out of the Ashes
04. The Accolade
05. Pharaoh
06. The Eyes of Medusa
07. The Witching Hour
08. The Divine Wings of Tragedy
09. Candlelight Fantasia
Kirjoittanut: Sami Elamaa