Montserrat Caballé
Published: October 07, 2018
October 8, 2018. Caballé and Verdi. Only three of the 20th century sopranos were ever given affectionate monikers by their adoring fans: "La Divina," "La Stupenda," and "La Superba" were indeed the greatest. La Divina – Maria Callas – died years ago, in 1977, she was just 53; La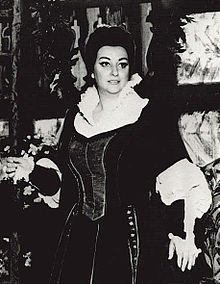 Stupenda – Joan Sutherland – just three years younger than Callas, lived a much longer life, and her singing career was also longer; she died in 2010. We were going to write about Giuseppe Verdi, as his birthday happens to be this week, but on Saturday welearned that La Superba, Monserrat Caballé, had died in Barcelona after a long illness. Caballé was an extraordinary singer. She had a real bel canto technique, a huge vocal diapason that allowed her to sing coloratura arias, and an incomparable repertoire of more than 100 operas. But more than anything else she was known for the purity of her voice and amazing vocal control that allowed her to sustain a long and even pianissimo line.
Monserrat Caballé was born in Barcelona on April 12th, 1933. She studied at the Barcelona Conservatory and graduated in 1954 with a gold medal. She then moved to Basel, sung in the Basel Opera and then in Bremen. In 1960, she appeared in a small role in La Scala. Her breakthrough came in 1965 when she replaced, on short notice, Marilyn Horne in a New York concert staging of Donizetti's Lucrezia Borgia. The public didn't know her, but she earned a 25-minute ovation. That evening launched her to stardom, which stayed with her for the rest of her life.
That year, 1965, she made her debut at the Glyndebourne in such diverse roles as Marschallin in Richard Strauss's Der Rosenkavalier and Countess in Mozart's Marriage of Figaro. Later that year she sung for the first time at the Metropolitan Opera, where she would sing for the next 20 years, appearing on stage 98 times. She went on to conquer every major opera house in the world. She officially premiered at La Scala in 1970, and two years later at London's Covent Garden and the Lyric Opera in Chicago. In 1974, when La Scala was visiting Moscow, she sung a phenomenal Norma. Bellini's Norma had a special place in Caballé's repertoire. She was one of the greatest Normas of all time and recorded it in 1972 with Domingo as Pollione. Twelve years later she made another recording, in which she sung Adalgisa, the role usually sung by a mezzo. In that historic recording, Luciano Pavarotti was Pollione. She partnered with the best tenors of the time, Franco Corelli, Giuseppe Di Stefano and Jose Carreras (and of course with Domingo many times, and Pavarotti).
We mentioned that Caballé had an unusually large repertoire. She sung most of the bel canto roles, the German and French operas, the Spanish zarzuelas, but throughout her career Verdi was in the center. And as we'd still like to celebrate the great Italian, we offer several samples from his operas. Here is D'amor sull'ali rosee, from Il Trovatore. This recording was made in 1974. Orquesta Sinfonica de Barcelona is conducted by Gianfranco Masini. Also in 1974, Caballé recorded Aida. Here's O Patria mia from Act III. Riccardo Muti leads the New Philharmonia Orchestra. Earlier, in 1968, she recorded this aria from Due Foscari, which isn't performed very often (RCA Italiana orchestra is under the direction of Antón Guadagno). And finally, from 1971, Ave Maria from Otello. Antón Guadagno again, but this time conducting the Royal Philharmonic Orchestra.