Hasse 2017
Published: March 19, 2017
March 20, 2017. Bach, Hasse and more. Johann Sebastian Bach was born on March 21st of 1685. We hope to be forgiven for not going any further this year (but do see below).
A very different German composer was also born this week. Johann Adolph Hasse, who wrote Italian operas admired both in Italy and in Germany, was born in Bergedorf, near Hamburg. He was baptized on March 25th of 1699. Hasse started his musical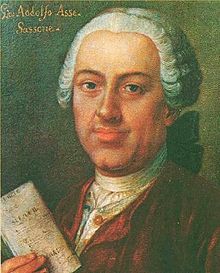 career as a singer, but by the age of 22 wrote his first opera, Antioco. The following year he left for Italy. He traveled through Venice, Bologna, Florence and Rome but eventually settled in Naples. There, he met Alessandro Scarlatti, who befriended Hasse and became his teacher. He also met with Nicola Porpora and maybe took some music lessons from him too. Carlo Broschi, known as Farinelli, Porpora's pupil, was a brilliant castrato singer; Hasse and Farinelli became good friends and eventually Farinelli would premier several of Hasse's operas. Hasse lived in Naples for seven year, enjoying a highly successful career. In 1730 he went to Venice where his opera Artaserse was performed during the Carnival. Farinelli sung the title role. When Farinelli was in Spain (he became the Chamber musician to King Philip V in 1737 and stayed in Spain for the next 10 years) he sung, on the King's request, two arias from Act 2, Per questo dolce amplesso and Pallido il sole, every evening. Here's Per questo, sung by the soprano Vivica Genaux with the Akademie fur Alte Musik Berlin under direction of René Jacobs, and here – Pallido, in an interpretation closer to Farinelli's, as it's sung by the countertenor Andreas Scholl. The Orchestra of the Age of Enlightenment is conducted by Roger Norrington.
In 1730 Hasse married Faustina Bordoni, a famous mezzo-soprano, who made her name in London singing in operas of Handel and Bononcini (there, her rivalry with another diva, the soprano Francesca Cuzzoni, was legendary). That same year Hasse and Faustina moved to Dresden, to the lavish court of Augustus II "the Strong," the Elector of Saxony and King of Poland, where Hasse was given the position of Kapellmeister. Faustina made her debut at the court the day after the couple arrived in Dresden. A year later Hasse wrote Cleofide, an opera based on Metastasio's original libretto. It was premiered at the Opernhaus am Zwinger, the royal opera house, one of the largest in Europe. Faustina sung the title role. Johann Sebastian Bach, who was then the Thomaskantor in Leipzig, and his son Carl Philipp Emanuel Bach attended the performance. The next day Bach Sr. gave an organ performance in the Sophienkirche, a historic Gothic church that was damaged in 1945 and destroyed later by the GDR rulers (we wrote about the church in one of our entries on Wilhelm Friedemann Bach). C.P.E said later that Johann Sebastian and Hasse were "well acquainted." Here is Cleofide's aria Digli ch'io son Fedele, sung by the wonderful English soprano Emma Kirkby. William Christie conducts Cappella Coloniensis.
Hasse's career was at its zenith, he was immensely popular both in Germany and in Italy, where he was going practically every year. Hasse was still to meet Frederick the Great and make friends with Metastasio. About this and more, some other time.
Béla Bartók, one of the most influential composers of the first half of the 20th century, was also born this week, on March 25, 1881. And Pierre Boulez, extremely influential in the second half of the 20th century, was born on March 26th of 1925.