[Year End List] DIFFERENT KITCHEN'S FAVORITE ALBUMS OF 2018
Published: December 28, 2018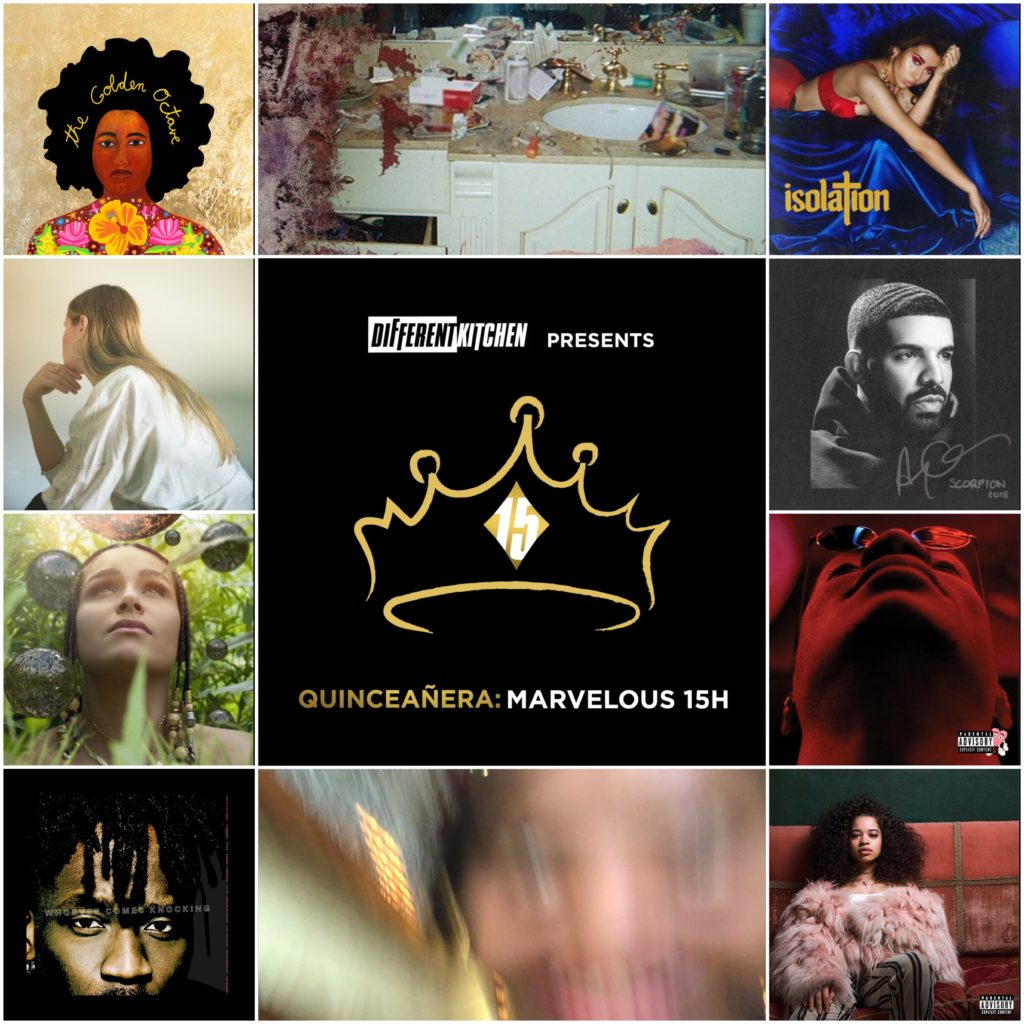 Like we said for the singles list and in years past, not an objective or definite best of list, just our favorites.
Also like last year, we don't have much else to say about this year in music except, even though both are on our list, we were kind of disappointed in the albums Anderson .Paak and The Internet released. Both artists have been major favorites around these parts over the past couple years and anticipation was sky high for their new albums. If they'd made the records we were hoping for and expecting, they would have been our #1 and 2 picks for this list by a country mile. As it was we had to replay both several times just to make sure we even wanted to put them on this list at all we were that disappointed. In fact, if we were forced to pick only a Top 10, it's not clear either would make it on there to be frank and that was even more of a bummer to realize than just overall feeling of having been severely let down by both albums.
The only other thing we'll add is that pop music was on fire this year. While we didn't put them on the list like Ariana Grande, whose album was an unexpected (to us) stunner, albums by Shawn Mendes and Charlie Puth were both excellent. Big budget, major label pop music where, for once, you could really hear the money in your headphones/speakers. Ella Mai's debut as well as the debut by fellow UK urban/pop artist, MNEK, were both nothing to slouch at either! We don't envy pop music songwriters and producers trying to compete with the level of quality out there nowadays.
On the hip-hop side of things, our faves are pretty much all listed below* but if you put a gun to our head, we might admit that Earl Sweatshirt's Some Rap Songs was our favorite full length in the genre for the year although shouts to Pusha, Drake (yes it's possible to be from The 6ix and like both!), Meek Mill and Nipsey also for excellent efforts and Canada's own Lou Phelps for a sleeper album (not really, Apple Music bigged it up!) that I only discovered in the late hour and is RIYL Goldlink. Being the little bro' of MTL's Kaytranada definitely paid off for homeboy it seems.
Last year when we did this post we said 2018 would mark the 15th year we'd been doing this site and that we had some exciting plans in store to celebrate. Those plans were the release of the QUINCEAÑERA: MARVELOUS ISH compilation album to acknowledge that milestone. A trip out to LA by Kitchen capo, Ian in pursuit of a new career direction he's embarking upon curtailed a lot of the promo and PR we had planned for the comp but don't worry, we're not done yet. There's more to come because yes, as you can see by our placement of the album on our list below, it was one of our favorite albums of the year and we're not near done telling the world about it. We put our name on it so why wouldn't that be the case?
More seriously, we put a lot of work into making the album as did all the artists who generously contributed music to it and we couldn't be more proud or happy with how it turned out so it's on our Favorite List without any reservation or guilt and we'll continue to celebrate the artists who helped us put it together well into the new year. Here's hoping that the new year also brings even more great music!
The List (in alphabetical order)
– Birthday Boy & Trish – Joseph
– Blood Orange – Negro Swan
– Cardi B – Invasion of Privacy
– The Carters – Everything is Love
– Different Kitchen presents… – Quinceañera: Marvelous Ish
– Drake – Scorpion
– Ariana Grande – Sweetener
– Nipsey Hussle – Victory Lap
– Zaki Ibrahim – Secret Life of Planets
– The Internet – Hive Mind
– Ella Mai – Ella Mai
– Masego – Lady Lady
– Masta Ace – A Breukelen Story
– Meek Mill – Championships
– MNEK – Language
– Anderson .Paak – Oxnard
– Lou Phelps – 002 / Love Me
– Pusha T – Daytona
– Kae Sun – Whoever Comes Knocking
– Earl Sweatshirt – Some Rap Songs
– Teyana Taylor – K.T.S.E.
– Top Shelf 1988 – Top Shelf 1988
– Kali Uchis – Isolation
– Charlotte Day Wilson – Stone Woman
– Witch Prophet – The Golden Octave
(* For the Travi$ Scott fans out there livid at its 'omission,' we liked Astroworld fine, it just wasn't one of our favorites. This and this weren't exactly helping win us over either to keep it a buck so don't @ us!)
Previously on the Kitchen:
– DIFFERENT KITCHEN'S FAVORITE SONGS OF 2018
– DIFFERENT KITCHEN'S FAVORITE ALBUMS OF 2017