This is Hardcore: A Night at Dirty Dungarees
Published: July 01, 2022
The city of Columbus has changed much over the past decade. Ohio's reputation as 'that lame Midwestern state' certainly persists, but it'd be hard to figure that when observing the growth of the state's capital; it's undergoing one of the highest growth rates of all Midwestern metropoles. It's no longer simply a domain for the Buckeye faithful (and the broken, battered Blue Jackets fans), but a combination of diverse people arriving from all corners of the United States. It's a change that can be observed in the heightened enrollment rates of The Ohio State University. It can be felt in the explosive crowds filling the stands of the novel Lower.com stadium. It can be witnessed in the outdoor Shakespeare shows and the sprawling Arts Festival. Most importantly, for us at least, it can be heard in the bustling live music scene.
As a consequence of Columbus' rise to prominence, its music market has considerably increased. Beyond the multitude of stadiums and theaters that can serve as concert venues, there are a plethora of smaller locales with their own personality and show miscellany. A trip to north downtown's King of Clubs might feature the legends of melodic death metal Dark Tranquillity, a brutal combo of Thy Art is Murder and After the Burial, or an amateur wrestling display. KEMBA Live can provide The Shins, Wiz Khalifa, or Meshuggah. For something off the beaten path, The Rambling House exhibits bluegrass jam sessions, jazz and stand-up comedy. Regardless of where one hails from, there is a way that they can be united in this community of apparently boundless music genres.
This incredible harmony is what allows En Love, Sour, Anteater, Darkroom, S.M.I.L.E., and Maranatha to thrive and be accepted by a loving, welcoming crowd more than willing to throw down and party well into a Saturday night.
I'll save you the confusion and assume you haven't heard of any of the aforementioned acts — which is perfectly OK, by the way. These aren't groups commonly seen storming the nation, conquering stadiums and wreaking havoc on massive stages — En Love being an exception, having recently jumped on board a tour with the rising For Your Health. Rather, these are a collection of local Ohio bands kicking around the bustling hardcore underground of Columbus. Nothing glamourous here; this is the brand of hardcore that desires to make inconceivably heavy breakdowns, pulverize eardrums with pounding bass guitars, and leap into frantic riffs designed to incite chaos. For one gloriously hot, sweaty, and hectic night on June 4th, these six groups took their collective talents to perhaps the most unique of the city's assortment of settings: a laundromat.
Yes, that is correct: a laundromat.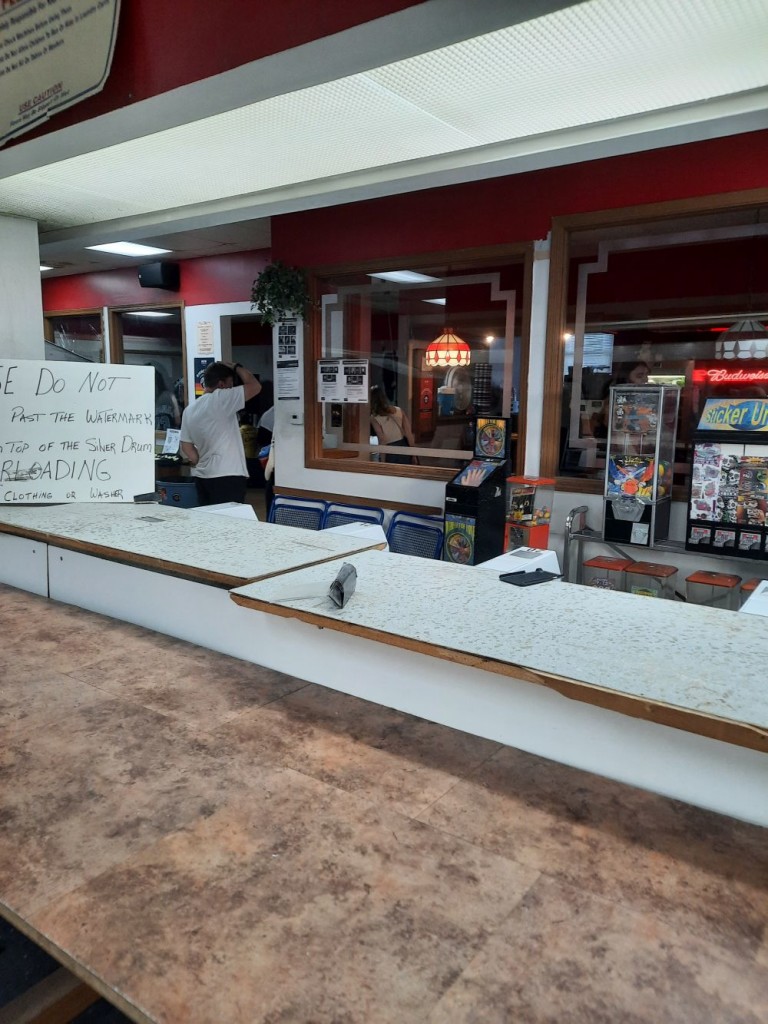 Dirty Dungarees is three-fourths washers and dryers and then roughly one-fourth bar. Patrons can take care of their clothing business, grab a drink, play an arcade game, then head off for the day. However, once the sun goes down, the establishment transforms: the small, cramped space left open in the bar area is converted to a makeshift stage. Spoken word, EDM, punk, hardcore: name it, and it has likely appeared at Dungarees before. Many of these shows are entirely free, although donations are recommended. With so many demonstrations, it's no surprise that the venue has quietly become a mecca for artists, especially with the increasing youth population traveling from OSU's nearby campus. It's a space that invites art in all its forms regardless of one's vision.
To the matter at hand: a free hardcore show. Six bands. One small bar space with hardwood floor, walls adorned with duct tape, scratches and holes, a cracked window, and zero divide between band and crowd. It's the sort of venue that doesn't put on airs and doesn't attempt to woo an audience with ambiance. This is a blank slate that accepts all as they are, welcomes them in, and absolutely goes wild. Its authenticity was overpowering; in a way, this was what hardcore was about. Fuck the stages and big speakers and screens and ornaments. Just find some corner in the world that can hold a guitar, bass, and drums, and go crazy.
The aesthetic of every attendee continued to illustrate the diversity of Columbus, specifically its heavy music denizens. Someone was sporting a Weakling tee. Another had a Jane Doe tattoo and loved jamming to The Chariot. There was a guy walking around in a Ween shirt. Several supported En Love by purchasing their latest design. One of the men who first started the insane moshing that endured the entirety of the five sets sported a classic Bathory tee, while those beside him joined the action with basketball jerseys. There were plenty of other tattoos, piercings, and amazing shirts, all of them telling a story and decorating an already vibrant crowd with an equally vibrant hardcore fashion. This was a place that could all show up and be exactly who they are, surrounding themselves with similar aficionados.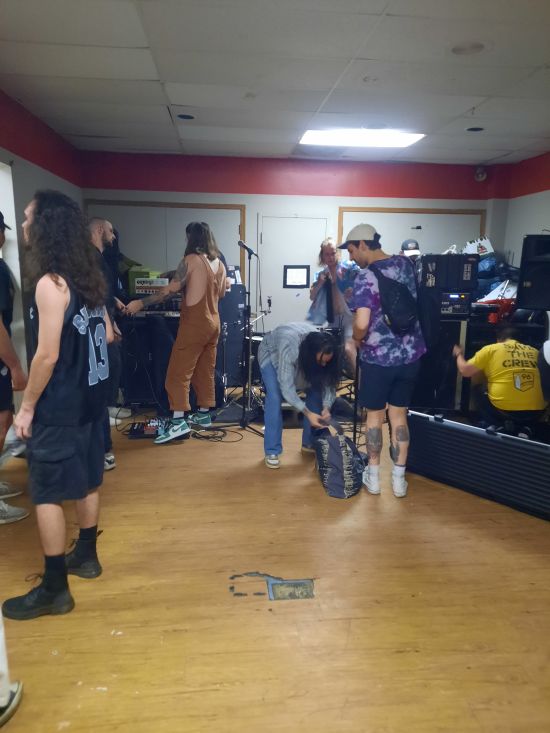 I decided to show up in my go-to "battle shirt": an old Killswitch Engage shirt with a zombie lady tearing open a bloody carcass. No one fucks with a guy wearing a Killswitch Engage shirt with a zombie lady tearing open a bloody carcass. By the time doors were ready to open at 7pm, a large crowd had already assembled inside and outside the establishment. I had to double-check that I hadn't blundered — this really was at a laundromat, eh? — and immediately took in the scenery. A small merch table was stationed outside the bar/venue area. Nearby, some attendees desperately tried their luck with a claw machine. Everyone was deep in conversation, laughing, smiling, simply enjoying the night.
Starting a chat with someone was entirely easy; if you entered a circle, it'd expand to let you in, like you had always been there. Many were regulars at Dungarees, consistently bringing along friends and significant others to fill the space with plenty of hardcore faithful. One band member even brought in his kids. For the most part, the community was as tight-knit as could be found at a local level, with concert-goers seeming to all know each other, yet they were extremely hospitable to newcomers. I was able to say hello to anyone, crack jokes, discuss new artists, all that jazz. I'd then usually watch the people I just met take the stage and tear the laundromat to shreds with their dark take on hardcore. If they weren't a musical artist, they were artists in some other form, and this happened to be the place where they congregated to let loose while supporting fellow creatives. These individuals would head across the city to house shows or different dives in order to pump blood into the local scene.
The first set started with an important warning that would be repeated throughout the night: do not break the window. The poor thing had been through enough, and the flimsy cardboard supporting it could only do so much. Without further ado, the openers launched into their performance, laying down a blistering few songs that raced right out of the gate. A pit was constructed immediately, the band eagerly encouraging as much movement as could be made in the cramped area (while sparing the window, naturally). It perhaps lasted only ten minutes, all told, but the adrenaline rush undeniably set the tone for the night. The vocals were manic, the guitars lethal, and the bass menacing in its ceaseless reverberating glory. Bodies raced around the mosh, with scarce a moment where they weren't colliding. Pushing, shoving, shoulder bashing, flailing limbs, the whole package. If you fell, someone got you back up, a good laugh was had, and you were back in the action. If you needed a breather, it was easy to dissolve back into the crowd, and the boundaries were clear. Insanity prevailed, but with hardcore's trademark sense of respect.
A brief respite was had where many darted outdoors for a smoke or just a reprieve from the indoors — the temperature skyrocketed in Dungarees whenever the action started. The inevitable growl of a guitar would beckon all to return to the chaos, with the succeeding band launching into another beautiful exposition of deadly breakdowns. The set ends, we drink in the night air, then head back inside to lose our collective minds. Rinse and repeat, rinse and repeat. At no point did the energy sag or the crowd diminish; whoever arrived at the show was there for the long haul. Whether they were on the floor or watching from the laundry room, every pair of eyes were transfixed upon the stage, headbanging, cheering, and applauding.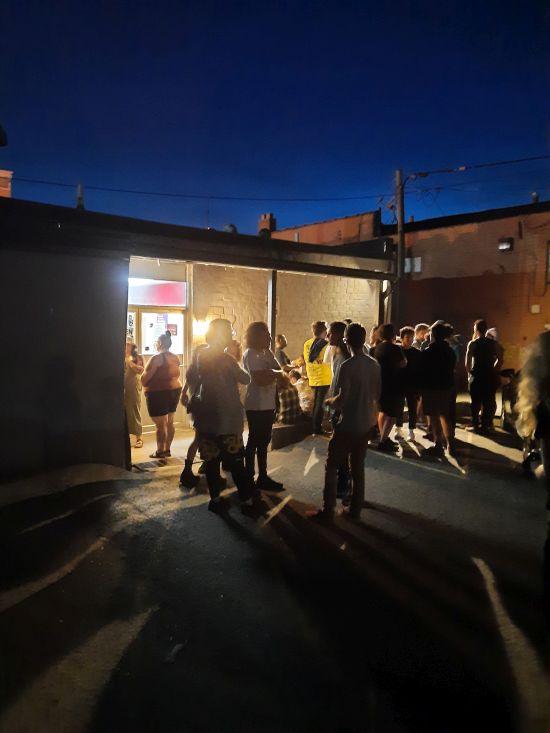 For a handful of the bands in the line-up, this was the first time they had the chance to play live. This was partially due to how newly-formed they were, but it also owed much to the unfortunate circumstances the city was still recovering from. Standing amidst an outpouring of merriment, it was easy to forget how, for about two years, it was impossible to enjoy these gatherings. It's cliché to discuss these things nowadays after what felt like a lifetime of corporate "these unprecedented times" jargon, but it was difficult to ignore it after falling in love with the venue's atmosphere. Yes, it was possible to get together in tiny DIY outposts and tear the damn thing down for a few hours of sweet release. Yes, it was possible to take a breather from school, work, stress, whatever else, and leave it all out on that hardwood floor.
There's no doubt in my mind that Dirty Dungarees is a rare beast, and something that should be treasured. To have a venue that will put on anything is of immense value to an underground scene. It possesses all the charm (and surface area) of a classic house show, with only a handful of people required to flood the venue and only a small donation fee requested. It's a comparatively minuscule amount that attendees are more than happy to meet. Nowhere else can band members, artists, and heavy music fans congregate in the city in such an intimate manner. It is equal parts an homage to old-school hardcore magic and a torchbearer of it, offering the ideal platform for young or otherwise less-mainstream collectives to get their start. Irrespective of what a group brings to the table, there is one thing for certain: the Columbus underground will come in droves and pour out their hearts. This is hardcore. –MarsKid