HEALTH – A diagnosis from a (faux) Doctor
Published: September 09, 2023
Previous Diagnoses:
Paradise Lost|Primus|Faith No More|Paramore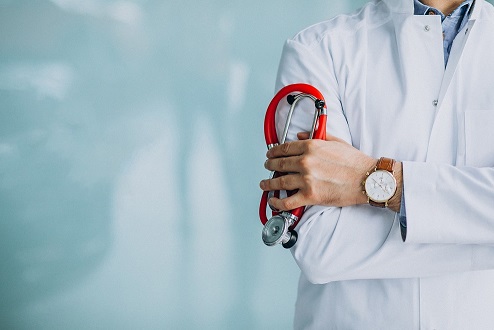 Good day denizens of Sputnik, and welcome to the fifth instalment of Dr. Gonzo's "Diagnosis Series". Today's issue will be on L.A. trio HEALTH; looking through their mainline LPs, with a couple of recommended supplements for you to check out, just because they're too good to pass up. So let me put on my gloves and let's check out what this band is all about.
Band/Artist: HEALTH
Origins: Los Angeles, California U.S.
Founded: 2005
Current Members:
Jake Duzsik: (vocals, guitar)
John Famiglietti: (bass, pedals, electronics)
BJ Miller: (drums) 
Previous members:
Jupiter Keyes (guitar, synths)
Studio albums: 4
Active: Yes
The Doctor's rating: 4/5
Analysis: HEALTH's 2007 debut is in stark contrast to what the band is producing these days, but in spite of the stylistic differences, the band's first album is still incredibly enjoyable and displays their promising potential for the future. Since the band's genesis was founded in the underbelly of the L.A. noise rock scene, their sound here is vastly experimental, albeit, never to the point of being obtuse. The album largely lends its sonic influences from bands like Ex Models' Zoo Psychology or a mid-noughties Liars album, like They Were Wrong, So We Drowned, but the distinction between these examples and this is that Health is much more palatable and relies less on ostentatious, arty executions with a side glance. Indeed, HEALTH cut out their own brand here, utilising the same electronic sounds and noise templates their peers were using, but the music feels far more succinct and interesting to listen to. As was accustomed at the time, Health is still intrinsically off-kilter compositionally, but they make these atonal sounds accessible throughout most of it. BJ's drumming is ferocious, and the mesh of squealing guitars and abstract electronics with Jake's post punk-y, airy vocals develop a pretty unique experience here. If there was a critique to be found it's that maybe the production – even the remastered version currently on streaming services – doesn't quite capture what the album is going for. It comes across very tenuous and doesn't match Miller's powerful drum work and the chaotic, spastic nature of the album's songwriting.
Prescription: A thoroughly enjoyable debut album with a decent balance of noise and accessibility under one roof. If you're accustomed to modern day HEALTH this may come as a shock to some, but fear not, as far as debut albums go, this is a very worthy entry. Listen to it 2-3 times a day for a week, then play as necessary.
Get Color (2009)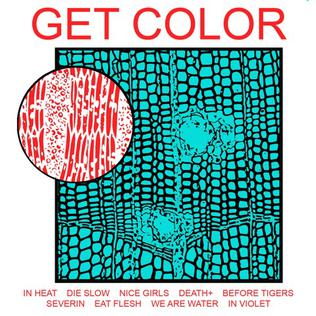 The Doctor's rating: 4.5/5
Analysis: Get Color wastes no time in finding the most refined version of Health's shapeless sound. Where the first album might meander at times, Get Color basically takes all of the previous record's bells and whistles and dishes out a tight-knit and focused tracklisting that caters to fans of the first album, whilst simultaneously opening up new pathways with its straight-edged, conventional songwriting style. In a way, it's almost sad to think this is the last time we'll hear the band sounding like this, but honestly, HEALTH polished the formula on here to a T, to the point where I don't think you could have really said much more with it anyway. Get Color has so many fan-favourites on it; from "We Are Water" and "In Heat", to "Die Slow" and "Nice Girls", the album does such a fantastic job in conveying their now signature melancholy in a way that's utterly distinguishable from anything else, and it's all done with brevity in mind. At 32 minutes, you will want to give this record repeated listens, as it leaves you craving more. The band's catalogue is exceptional, but I doubtlessly regard this as their second-best record, save only to slight preferences. If you don't like the metal lean of later works but like rock music that's a little more experimental, definitely give this a try.
Prescription: HEALTH's sophomore album is an objectively better record than the first. Health has its qualities, but Get Color really knuckles down on the songwriting and makes structure the focal point here. As a result, the band take all of their ideas and sounds from the debut and make a coherent record with broader appeal, one that doesn't throw the baby out with the bathwater. Listen to it 4-5 times a day for a week, then play it as necessary after that.
The Doctor's rating: 4.2/5
Analysis: If there was ever a weak link in the band's nigh unbreakable chain, it would likely be HEALTH's third record, Death Magic. Upon its release I enjoyed it quite a bit, but it felt very sterile and over-reliant on its pop proclivities. As time has gone on though, even the sweetest pop number ("Flesh World (UK)") feels well crafted. Their mirthless undercurrent runs strong here, and arguably feels better suited to its surroundings than even Vol.4 at times, with its crisp, punchy production creating a nice juxtaposition with the music and the lyrics. Jake's nihilistic, existential musings on "Stonefist", "Life" and "Dark Enough" seem to drum harder in this environment than in a heavier setting, bolstering Jake's contributions as a poet and singer. Ultimately, I love this album, but I can understand why someone wouldn't vibe with all the creative choices here. For me, Death Magic's main downfall is that it goes too far in one myopic direction. The production is a meaty bugger, but it feels a little too sanitised for this band; with the straight-shooting songwriting maybe being too much for some older HEALTH purists as well. However, in spite of these contentious elements, Death Magic has some of the band's best tracks to date – with "Dark Enough", "New Coke" and "L.A. Looks" perfecting the pop-meets-HEALTH atmosphere amalgam.
Prescription: The Max Payne 3 Soundtrack had a massive effect on not only their production choices, but how they wrote their material. Death Magic doubles down on the accessibility of Get Color but adds a very different production into the equation and blankets the material in their inimitable mood building. Death Magic is their pop album, without question, so it may not agree with everyone. That said, like their debut, what it does it does very well, so it's worth checking out. Listen to it 4-5 times a day for a week, then play it as necessary after that. 
Vol.4 :: Slaves of Fear (2019)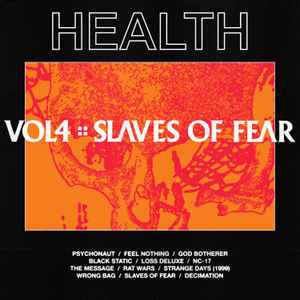 The Doctor's rating: 5/5
Analysis: Without the context surrounding Vol.4 :: Slaves of Fear, the record might come across as another arbitrary leap into the unknown, delivering this time a dystopian soundscape that throws trap, metal, pop, and their usual arsenal of sounds into the mix. But, if you've followed their Disco series, you'll understand that there is a gradual and organic progression being made that brings the band to this pitch-perfect point in their career. Essentially, Vol.4 :: Slaves of Fear takes all their experiences from previous works and creates a near-perfect album from it. They've honed their production into this mammoth, sub-crushing explosion; they've taken the accessibility from Death Magic; and they've combined their array of sounds built up from previous albums and Max Payne 3 to create an engaging, skull-crushing cinematic marvel. "Feel Nothing", "Black Static", "God Botherer", and "Strange Days (1999)" encompass all of the band's greatest qualities and ensure they are served to the listener as abrasively as possible. The record seamlessly flows from hard-hitting bangers with big choruses and tenebrous verses, with all the experimental nibbles in between, but by the time you arrive at the album's closer – with your singed hair and ruptured eardrums – you will be given enough time to ponder over the fact these guys have made a really profound album here.
Prescription: Currently, this is the apex right here. Shockingly, the band have never produced anything below a high standard, but here they've managed to fine-tune every strength they've got going for them. As I said at the start of this analysis; they are a very different sounding band from when they first started, and there's a side-order of caution in that, because preference is ultimately key. That said, there are barely a handful of artists out there who appear seemingly infallible when it comes to writing new material, but HEALTH are indeed one of those bands. And whatever your preference, there's no denying the band do a great job at whatever they attempt. Repeat prescription – Listen to it four-to-five times a day for a week to start with, preferably with a cold beverage, then listen to it as necessary.   
---
Supplement Recommendations:
Max Payne 3 (2013)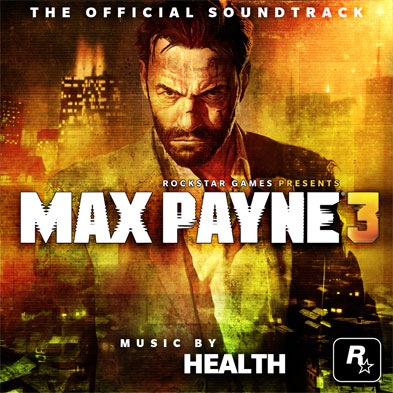 The Doctor's rating: 5/5
Analysis: Simply put, I don't think there's a soundtrack out there I've listened to more. Some OSTs are merely a compilation of tracks from a film, show or game; but sometimes there are OSTs out there that resonate so resoundingly, they sound like they were always fully-fledged albums. Max Payne 3 is one such OST – a full experience that not only subjugates the Max Payne ethos perfectly, but expands on the previous two entries and adds even more depth to the world. "Tears" for example is not only a banger in its own right, but a cleverly written piece that had a lot of thought put into it lyrically, as it tells Max to let go of his pain and loss for his family (told through the perspective of his wife, Michelle). This level of pragmatism and care permeates every track on the album and serves to elevate every cutscene and piece of dialogue in the game. The sheer level of atmosphere on this thing is staggering as well, and it genuinely captures a certain tone that is unique enough to stand on its own, but familiar enough to sit in the Max Payne lineage. 
Prescription: This OST is in my top 5 soundtracks of all time, sometimes reaching the point of being my all-time favourite OST. Even if you've never played the game, the sombre soundscapes are a thing to behold. Repeat prescription – Listen to it four-to-five times a day for a week to start with, preferably with a cold beverage, then listen to it as necessary.         
The Doctor's rating: 4.5/5
Analysis: It's staggering enough to see the band unwaveringly create great music time after time, but to release remix albums with the same level of quality and care, that's just showing off. The first two Disco albums are excellent – the latter containing the fantastic "USA Boys" single – and contain remixed reinterpretations of their latest releases, to add new facets to the music being released by the band. Disco3 takes this concept and intersperses it with new original songs and a clear vision for where they want their production to go in the future, but for Disco4, the band decided to take a different approach, opting to collaborate with artists and create all original tracks. The concept alone should be cause for concern tonally, with a disparate selection of artists from many walks of music, however, both parts to this ambitious project are unbelievably cohesive, utterly engrossing, and continue to display the band's infallible qualities. The first part of Disco4 is a shade shrewder, with a nice balance of styles that flow really well together. The second part sits heavier on delivering a metal orientated experience, but both albums are salient achievements that will please just about anyone.         
Prescription: Disco4 is a massive project and worth every bit of praise it deserves. The roster spread across these albums is great – from NIN to Soccer Mommy; Lamb of God to Xiu Xiu, there really is something for everyone here, and it's never at the expense of the albums' cohesion. Listen to it 4-5 times a day for a week, then play it as necessary after that.
Doctor's Notes:
Strengths:
       

Incredible, unwavering consistency throughout their career.

       

An expansive, boundaryless ethos, where at least one of their records will tap into something you like. 

       

A very unique sound – especially in their formative years.
Weaknesses: 
       

There's a particular sound attached to anything pre-

Death Magic

that was really unique to the band, but is dying out with new projects, which is a shame.
Diagnosis: HEALTH are one of my favourite bands, and for good reason. They aren't the kind of band to rest on their laurels, and actively look for new ways to enhance their sound. The best part is it doesn't come across as forced; their progression as artists feels fluid and gradual, and with every idea they try, it's applied prudently, which is probably why the results always work. The top and bottom of it being – the quality of their discography is incredibly strong. Whatever your preference is musically, there will be something here for you, whether that's in the Disco series, the game soundtracks, or their LPs.