Tchaikovsky and War in Ukraine, 2022
Published: May 02, 2022
This Week in Classical Music: May 2, 2022. Tchaikovsky (and War in Ukraine). Pyotr Tchaikovskywas born on May 7th of 1840. He's acknowledged as the greatest Russian composer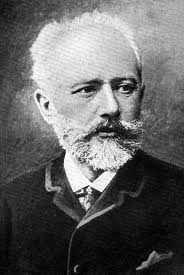 of all time (or, realistically, of the last two centuries that classical music has existed in Russia in its present form), but on March 9th of 2022 the Cardiff Philharmonic Orchestra cancelled its all-Tchaikovsky concert as "inappropriate at this time" (due to war in Ukraine) and replaced it with the music of Dvořák, John Williams, and Elgar. Many things come to mind. To make it absolutely clear, we'd like to state (again) that we believe the Russian aggression against Ukraine to be criminal and inhumane and hope that Russian President Putin will end up in the Hague. But to cancel a Tchaikovsky concert? First of all, the idea of "canceling" is clearly of our time, when people and speech are routinely cancelled by our media, networks and social institutions. Secondly, what does Tchaikovsky has to do with Russia's invasion of Ukraine? Was he anti-Ukrainian, as Wagner was anti-Semitic? No. Was he xenophobic, an ardent Russian nationalist? Absolutely not. Just the opposite, Tchaikovsky was one of the most progressive, Westernized composers of his era. He traveled broadly, spending years in Italy and other countries, premiered his music in Europe, conducted the New York Music Society's orchestra. He was also gay, an anathema in modern-day's Russia. Why would anybody associate him with the evil of Mr. Putin's Russia? One can like Tchaikovsky's music more or, as the late NY Time music critic Harold Schonberg, you could like it less, but to cancel him is absurd. Interestingly, the offending piece in the original program, according to the Cardiff Phil, was the "nationalistic" 1812 Overture. This is absurd on many levels: this music was "culturally appropriated" in the United States as practically the official anthem of the 4th of July, and it was written to celebrate the victory against the aggressor, not an aggression!
What adds insult to injury is the replacement of Tchaikovsky's music with that of John Williams, his Cowboy Overture in particular. For those who are unfamiliar with this "masterpiece," we recommend sampling it on YouTube (we'd rather not reproduce it here). It's movie-music at its most mediocre. Not all of Tchaikovsky's music is great, he really wrote some crummy pieces, but any one of them is on a different, and much higher, plane than this.
To celebrate Tchaikovsky's birthday, here's his Violin Concertо, performed by the German violinist Julia Fischer, accompanied by the Russian National Orchestra under the direction of Russian-Jewish-American conductor Yakov Kreizberg. A side note: the Russian National Orchestra was created by the pianist and conductor Mikhail Pletnev in 1990. Less than a month ago, Svetlana Rips, the director of the orchestra was fired by the Russian Ministry of Culture and replaced by a Putin loyalist. It's rumored that Pletnev may lose his position as well.