Gustav Mahler, 2022
Published: July 04, 2022
This Week in Classical Music: July 4, 2022. Mahler. Gustav Mahler was born this week, on July 7th of 1860. We freely admit that for us Mahler remains one of the most important and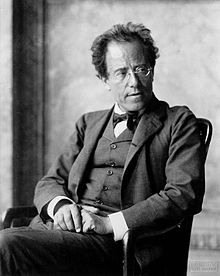 beloved composers and that he has been so for a long time. This is rather unusual, as other composers of genius (and there were many in the last several hundred years) drift in and out, becoming more important and then receding somewhat as tastes change and other music periods come to the fore (take, for example, the overwhelmingly Romantic piano repertoire of the mid-20th century, now being performed sparingly). To think of it, this is unusual for a composer who wrote just nine full symphonies, part of a tenth, a symphony/song cycle (Das Lied von der Erde), and several other song cycles – that's practically it. All of Mahler's music could be played in less than 20 hours. Compare it with Beethoven's output (nine symphonies, five piano concertos, plus 32 piano sonatas, a violin concerto, nine violin sonatas, a full-length opera, 17 string quartets and much more) or Bach's, with more than 200 cantatas alone, plus Passions, oratorios, concertos, and numerous other pieces for individual instruments and ensembles. During the last century, Mahler also played a significant extra-musical role, serving as a litmus test in the ongoing culture wars, starting with the Nazis and all the way to our time (we'll come back to this issue later).
For several years we've been traversing Mahler's life using his symphonies as guideposts. A couple of years ago we finished our entry about the Seventh symphony writing, "The years 1904 – 1905 were good to Mahler. He was acknowledged as a great opera conductor, and his symphonic programs with the Philharmonic were popular. Some of his compositions even had critical and popular success (Symphony no. 7 would not go on to be one of them). He lived very comfortably, was happily married, and his second daughter, Anna, was born in 1904. He had many friends and admirers among musicians and developed a special relationship with the Concertgebouw Orchestra and its conductor Willem Mengelberg. Just three years later Mahler would have to leave Hofoper, hounded by antisemitic music critics; in 1907 his first daughter, Maria, would die of scarlet fever and his marriage to Alma would be on the rocks."
Mahler composed most of his Eighth symphony in the summer of 1906, at the end of his "happy period," not, of course, that he was aware of it and of what was to come. His Sixth symphony was premiered in May of that year in Essen, with Mahler conducting, and in June he took his family to Maiernigg in Carinthia, where he had a villa overlooking the Wörthersee (lake Wörth). He had been going to Maiernigg since 1900 and in 1901 had a "composing hut" built there, to which he would retreat, alone, to write and contemplate. That's where he composed all of his symphonies from the Forth to the Eighth. The latter was written very quickly, in just two months, though some changes were made later. The Eighth was called "Symphony of a Thousand" by its original promoter, Emil Gutmann, as it required a huge orchestra, vocal soloists, two regular choirs and one children's choir (the real number of performers was smaller than one thousand and Mahler disapproved of the moniker). The symphony consists of two parts rather than the usual several movements - a relatively short Part One, based on the traditional Latin text of the hymn Veni Creator Spiritus, and Part Two, which runs about an hour or more, depending on the conductor, and is based on the closing scene of Goethe's Faust.
The Eighth was premiered in Munich on September 12th of 1910. It was the last time that Mahler would conduct a premier of his symphony. Emil Gutmann promoted it heavily and the public's anticipation was enormous. Here are just some of the cultural figures in attendance: composers Richard Strauss, Camille Saint-Saëns and Anton Webern; the leading writers of Germany, Thomas Mann, and Austria, Arthur Schnitzler; and Leopold Stokowski, who would conduct the American premier of the symphony several years later. The performance was an unqualified success, which is rather surprising, considering that a more accessible Sixth symphony was received coolly. Thomas Mann sent Mahler an effusive congratulatory letter and later gave the writer Gustav von Aschenbach, the protagonist of his novella Death in Venice the "Mask of Mahler." Some year later the great Italian director Luchino Visconti took it a step further and made Aschenbach into a composer and used the Adagietto from Mahler's Fifth symphony as the movie's main theme, popularizing it for years to come.
We'll hear the famous 1972 recording of the symphony made by Sir Georg Solti conducting the Vienna Boys Choir, the Choir of the Vienna Musikverein, the Choir of the Vienna State Opera, the Chicago Symphony, and several vocalists, among them the soprano Lucia Popp, the tenor René Kollo and the bass Martti Talvela. Part 1 is here, part 2 – here.