Kanye West Just Surprised Everyone With A New Track On His Website And Literally WTF Is It
Published: April 27, 2018
🎤poop didi whoop scoop🎶
So Kanye West was in the news a lot this week and had a lot of people asking, "What in the literal fuck?!" It involved, Trump, his wife Kim Kardashian, splintered celebs, a MAGA hat — catch up here because no one has the time to go through it.
Kevork Djansezian / Getty Images
whoopidi scoop
scoopdidi whoop
whoopdi scoopdi poop
poopdi scoopdi scoopdi whoop
whoopidi scoop whoop poop
poop didi whoop scoop
POOP POOP
scoopdidi whoop
whoop didi scoop
whoopdidi scoop poop
It seems not even the power of Twitter's brain could decide what the lyrics were.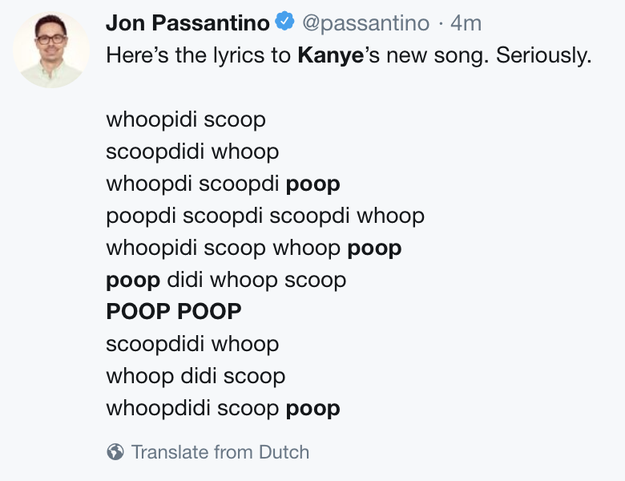 LINK: Kim Kardashian Defended Kanye For Wearing A MAGA Hat And, Yes, Everyone's Freaking Out
LINK: How Celebrities Are Responding To Kanye West, From Chrissy Teigen's Jokes To Taraji P. Henson's Side-Eye
LINK: Kanye West Announced On Twitter That His New Album Is Coming Out In June
Copyright © BANDMINE // All Right Reserved